3 Tips for the Best Engagement Photo Experience
As a Hudson Valley photography and videography team, we know a thing or two about engagement sessions! We're sharing our best advice with you so that you can truly enjoy your engagement session and have photos that document this amazing moment leading up to your wedding day.
Tip 1: Pick the Right Photographer for Your Engagement Photo Session
Our first piece of advice is to choose the right photographer to document your engagement session. With our 13 years of experience photographing weddings and engagements in Hudson Valley, we have learned that having a good connection with our couples makes all of the difference in the world!
Make sure to choose a photographer that shoots in the style you love. Style is one of the most important aspects of photography to most couples! Don't expect light and airy photos from a photographer with a dark and moody style. Make sure and view galleries from photographers before choosing the one for you.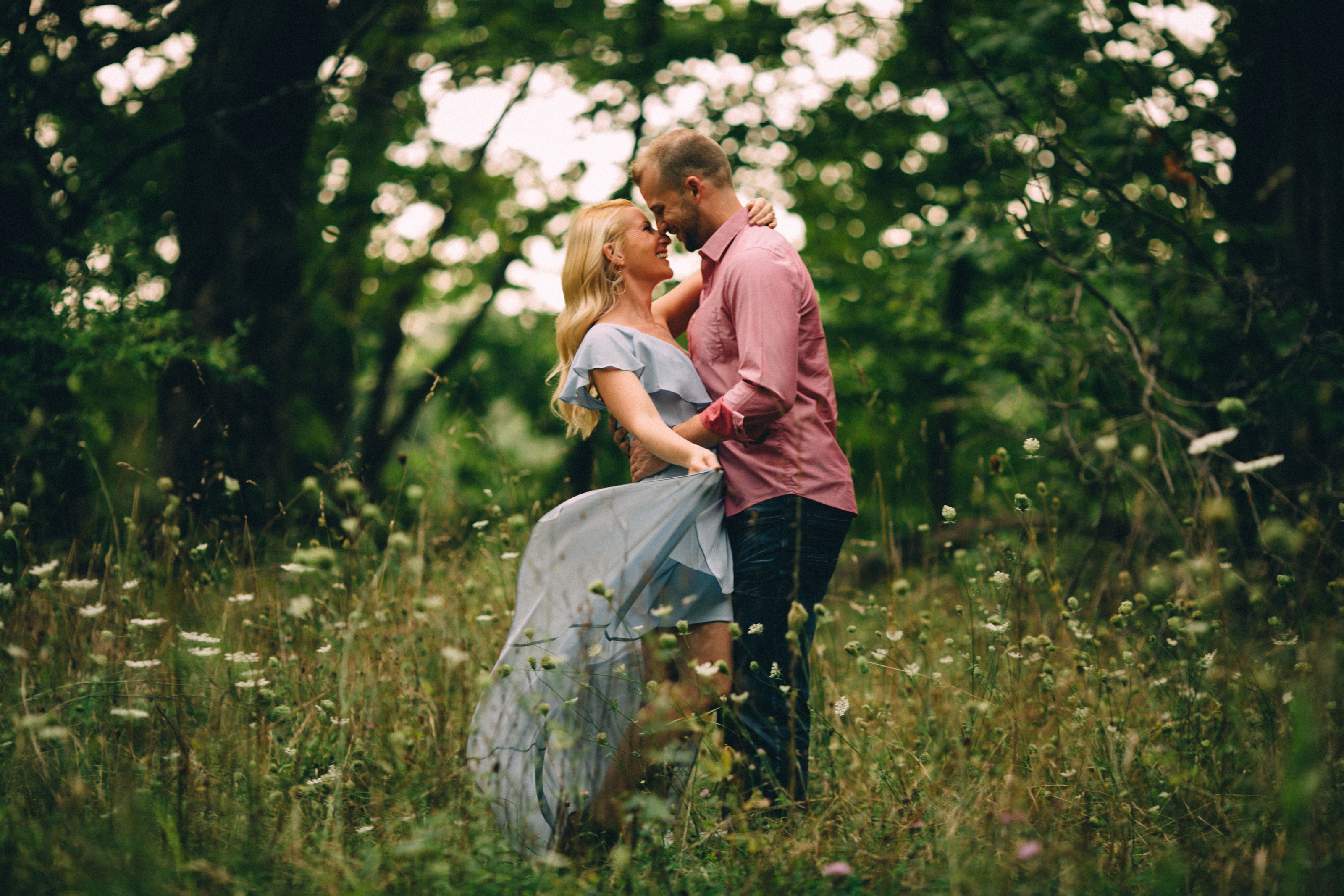 Another important thing to consider is the experience that a photographer provides. We work hard to make our couples feel comfortable in front of the camera. That way, that they can truly be themselves and their photos will tell their authentic love story. It can be hard to relax and be yourselves in front of the camera at first, but we have learned all of the best ways to help you get into a groove and focus on each other instead of the camera. We also recommend locations to our couples, along with the best time of day to take photos at different locations throughout the year! We are here to make the process easy and enjoyable for you. If you are hiring a hair and makeup artist, use this opportunity as a trial run. And also as an opportunity to get pampered. This is a date after all!
Tip 2: Choose Outfits You Feel Comfortable in for Your Engagement Photos
One of the best ways to feel comfortable and confident at your engagement session is to pick outfits that you feel great in. Most engaged couples ask for advice on how to pick out outfits that will help them feel comfortable and look great for their engagement session. Here are some of the tips we always recommend to our couples:
Coordinate colors or styles instead of matching.
You don't need to wear the exact same colors to have outfits that look great together. We recommend coordinating a style or color rather than being overly matchy. For example, head over to Pinterest and pick a color scheme, then wear colors that fit into your palette. A little bit of contrast will help to bring out your natural beauty in photos. **Don't be matchy matchy. Contrast is beautiful.
Wear patterns with caution!
Wearing patterns for photos can be tricky. If one of you decides to wear a pattern, make sure the other person wears something solid so that there are no clashes. Small patterns can also create a strange look in a photo, so stick to larger patterns. One good way to make sure you're not clashing is to lay out all of the items of clothing from both of your outfits to see if anything looks off.
Wear something that makes you feel confident.
We recommend that you pick outfits that you feel great in. If there is an item of clothing in the back of your closet that you're not brave enough to wear, it probably isn't a good idea to pull it out for your engagement session. You'll feel uncomfortable and probably won't be yourself in front of the camera. On the other hand, if there is an outfit that never fails to make you feel beautiful or handsome, it might be a winner!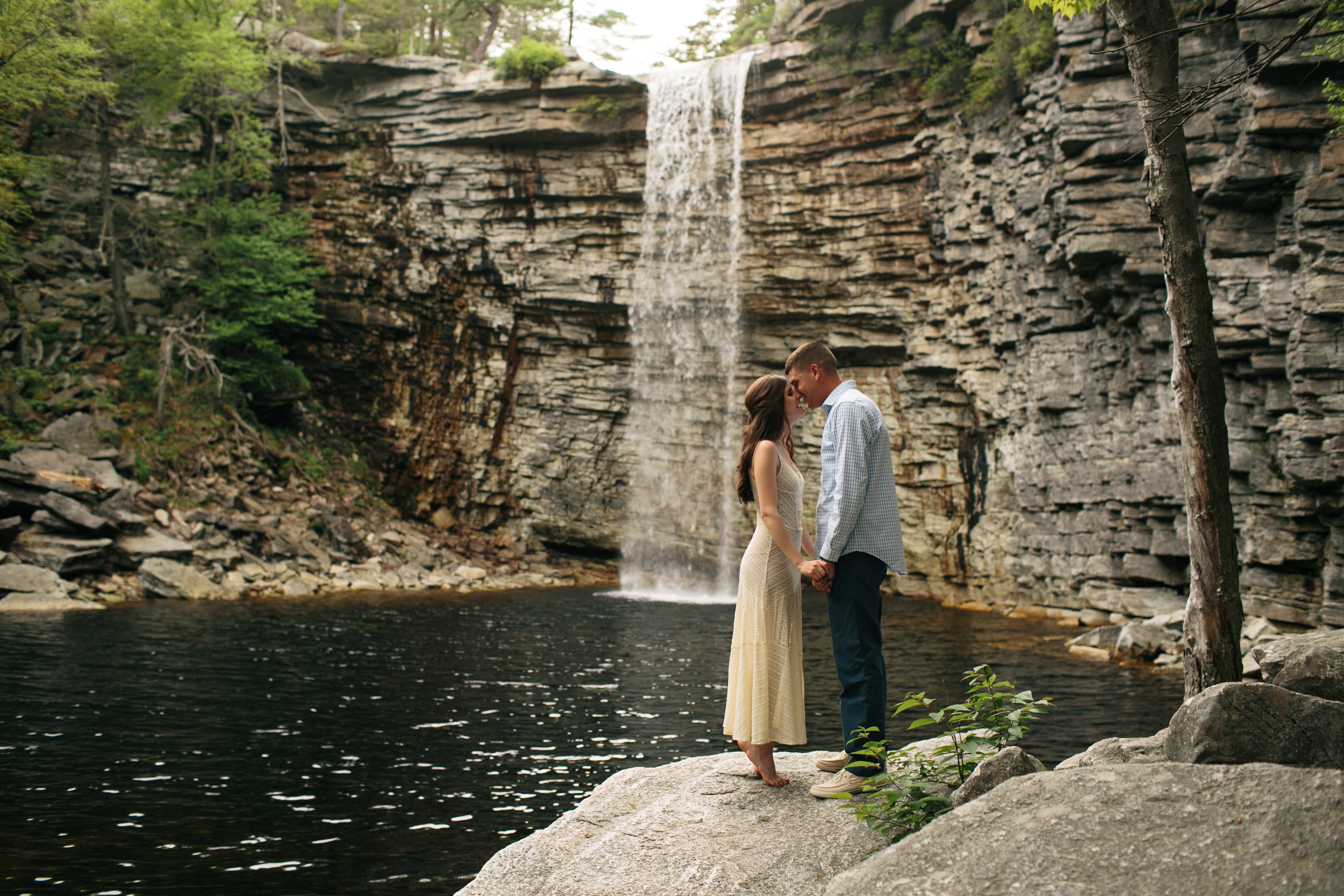 Take advantage of the opportunity to get dressed up.
Your engagement session is also one of the few opportunities you might have to get dressed up. If you want to have a formal look for your engagement session, you can go all out. Brides, take advantage of your hair and makeup trials. You could even wear a favorite jewelry piece, or buy something new to show off in your photos.
Note: If you want your photos to feel more down-to-earth, there's nothing wrong with not wearing dressy clothes! If you want timeless pictures, stick to a neutral color palette.
Tip 3: Be True to Yourselves!
Choosing the right outfit and having a good connection with your photographer are two things that will help you to be true to yourselves. The best tip to having an amazing engagement photo experience is to soak up this special moment in your life. It's a good opportunity for memorable photos without the stress of the wedding day. This time period in your life is also something unique that will never be created and your engagement photos document this special time leading up to your wedding day and help to tell your love story.
Photography is a collaboration between you and the photographer. Be willing to take some risks and trust the creative input. Whenever I take pictures for my couples, I'm trying to capture the essence of their relationship and their love.
We love love. But some couples are a bit more shy than others. If you aren't into huge amounts of PDA like snuggling and kissing, that's fine! We will get some great pictures of you playing and having fun together.
Are you looking for a photographer to capture your Hudson Valley engagement?